Non-metallic Polypropylene Laboratory Casework
TFI is a custom manufacturer specializing in non-metallic polypropylene laboratory casework for laboratories and other applications with corrosive environmental conditions. Available in both standard and flame retardant (FR) polypropylene, our plastic laminate casework is designed to meet or exceed standards for corrosion and contamination issues in all types of laboratory settings. We offer a number of different lab casework configurations which are then modified and customized to meet the specific needs of the application at hand.
Options for our plastic laminate casework include number of drawers, number of doors, sliding or glass doors, tall or standard height, knee spaces (with back panels), biosafety cabinets and other plastic casework.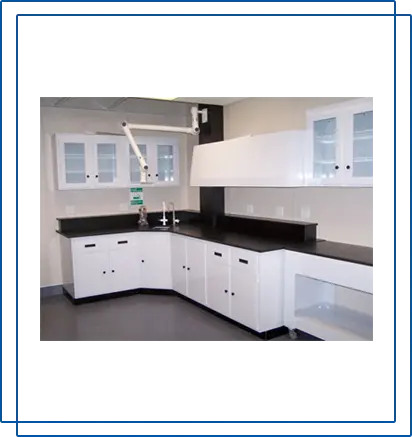 Plastic lab cabinets are available in three polypropylene colors: white, black, or natural, with continuously welded joint construction and non-metallic hardware throughout. Casework also features an integral hinge for added strength. We supply through our dealer network, and have established relationships with architectural and engineering firms as well as laboratory manufacturers. Some applications include universities and local, state, and federal agencies.
We offer a full line of standard polypropylene casework with a variety of feature combinations available. We also have the ability to customize our casework to meet specific user needs, such as custom dimensions, feature combinations, configurations, etc.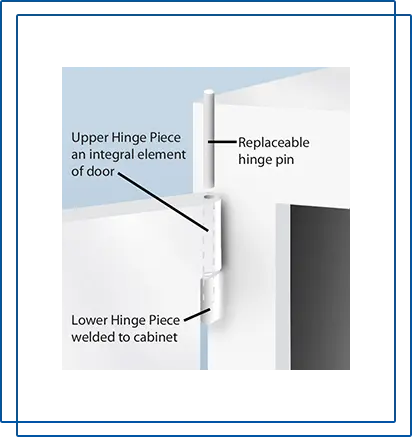 ---
Standard & Flame Retardant Polypropylene
TFI/Inline Design's solid polypropylene base cabinets are 22″ deep and come in standard 30″ sitting heights and 36″ standing heights. A variety of combinations of doors, drawers, doors and drawers, and shelves, are available. We also offer several options in terms of hardware for doors and drawers, including (but not limited to) recessed pull handles, wire pull handles, corner coved door pulls, door knobs, and more options. Base cabinet doors come standard with TFI/Inline Design's integral hinge design.
Beyond our standard sizes listed, we can custom manufacture polypropylene base cabinets to suit the needs of architects, engineers, and end users of a particular project. Please contact us for details and pricing.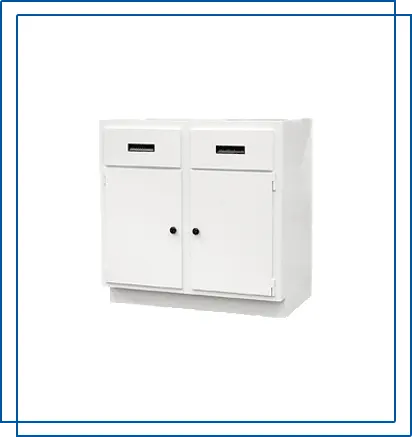 ---
Tall Cabinets
TFI/Inline Design manufactures a line of tall storage cabinets using all polypropylene material. The standard depth of our tall cabinets is 22″ and they come in several width and door combinations. Each cabinet comes standard with (1) middle, fixed shelf as well as (4) adjustable shelves. Glass doors come with the option of either glass or polycarbonate material. All hardware (unless otherwise requested) is non-metal, and the doors use TFI/Inline Design's integral hinge design.
Custom sizes, configurations and modifications are available and can be discussed by contacting one of our friendly sales associates.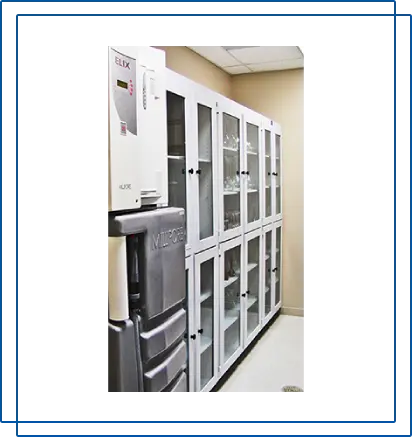 ---
Knee Spaces
TFI/Inline Design offers an extensive line of knee space aprons, along with optional removable back panels, that are manufactured using seam welded polypropylene material. Knee spaces come in standard dimensions of 4″ heights for aprons without drawers and 6″ heights for those that have 1 or more drawers, and are all a standard 22″ depth.
Knee space end panels are available in both 22″ depths and 30″ depths for placement at exposed sides to eliminate the need for side filler panels.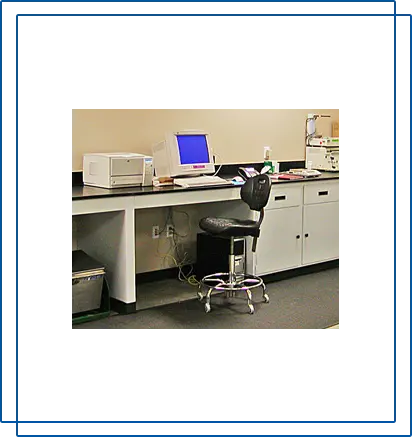 ---
Wall Cabinets
TFI/Inline wall cabinets come in various lengths, heights and door configurations, and are a standard 13″ depth. Cabinets all come standard with 2 adjustable shelves and non-metallic hardware. Custom sizes and configurations are available, thus enabling the customer to design their laboratory specifically for their needs.